Today's show - fashion show (spoiler)
(General Discussion)
The clothing looked more like S&M fashions than sexy bedroom attire.

I shop lingerie from VS often, and to be honest, what the fashion show had today is what VS has been selling also for at least the last 2 years. They also have items with much less fabric and they do have crouchless undies. Also Fredericks have similar items.
No, I'm not into S&M, but I do like to model lingerie for my hubby and he loves it. Everyone has their own taste but the hate for Steffy is so strong, people just want to pass judgment and name calling. I didn't care for the male model attire, but all the female models lingerie look look beautiful
I didn't care for the male lingerie.
--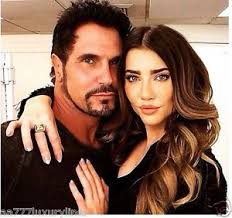 Bill to Steffy: You're a grand prize. You're a queen. The total package. Brains, beauty, warmth, heart. I've always known that about you. Don't you ever doubt how extraordinary you are.
---
---