People missing from the fashion show
(General Discussion)
There were a few people who it seemed should have been at the fashion show but weren't and their absences weren't explained.

First of all - Eric should certainly have been there shouldn't he? His company. His granddaughter. His wife. (Was he there and I just missed him?)

And the Avants were there but no Maya and no explanation for her absence unless I missed it.

Finally, where was Katie? I understand the absence of people who exclusively work on HFTF, but Katie is supposed to be in charge of marketing for the whole company. Wyatt focuses on Social Media Marketing, but there is more to marketing than that and you'd think the executive in charge of the whole thing would be at a major fashion show for the company.

On another note, I do appreciate that they brought back Shirley for Sally's big day and having the Avants there for Xander was nice too.
Yeah why wasn't Eric there? Katie is suppose to help Ridge when he's being interviewed tomorrow.
--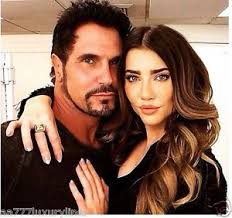 Bill to Steffy: You're a grand prize. You're a queen. The total package. Brains, beauty, warmth, heart. I've always known that about you. Don't you ever doubt how extraordinary you are.
---
---