TV Watercooler Spoiler for the week of Feb. 18
(General Discussion)
Wyatt updates Bill about Thorne and Katie's marriage.

Hope confides in her mother.


Sally is in for a surprise.


Hope makes a decision about her marriage.
Hope decides to divorce Liam and move in with Steffy. They can raise the kids together.
--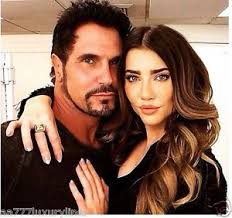 Bill to Steffy: You're a grand prize. You're a queen. The total package. Brains, beauty, warmth, heart. I've always known that about you. Don't you ever doubt how extraordinary you are.
---
TV Watercooler Spoiler for the week of Feb. 18 - wow, 02-11-2019, 1:32AM

TV Watercooler Spoiler for the week of Feb. 18

- Steffyfanatic,

02-11-2019, 1:46AM

TV Watercooler Spoiler for the week of Feb. 18 - Windigstadt,

02-11-2019, 1:55AM

TV Watercooler Spoiler for the week of Feb. 18 - Barbybo,

02-11-2019, 2:01AM

TV Watercooler Spoiler for the week of Feb. 18 - FataMorgana,

02-11-2019, 2:05AM

TV Watercooler Spoiler for the week of Feb. 18 - rain4,

02-11-2019, 2:11AM

TV Watercooler Spoiler for the week of Feb. 18 - Guest1296,

02-11-2019, 3:38AM

TV Watercooler Spoiler for the week of Feb. 18 - EmaU,

02-11-2019, 3:49AM

TV Watercooler Spoiler for the week of Feb. 18 - KatieFan32,

02-11-2019, 3:54AM

TV Watercooler Spoiler for the week of Feb. 18 - KatieFan32,

02-11-2019, 3:56AM

TV Watercooler Spoiler for the week of Feb. 18 - Viola,

02-11-2019, 5:15AM

TV Watercooler Spoiler for the week of Feb. 18 - Twigs,

02-11-2019, 6:17AM

TV Watercooler Spoiler for the week of Feb. 18 - Mariposaa,

02-11-2019, 8:38AM

TV Watercooler Spoiler for the week of Feb. 18 - q,

02-11-2019, 10:21AM